Podsumowanie Wielkopostnej Akcji Zbierania Zabawek oraz Donacji w naszej szkole dla dzieci z Kenii:
Wspaniałe zabawki: balony, piłki, kredki, samochodziki, farby, skakanki, kolorowanki, itp., itd…. oraz $314.00 zostało przekazane w sobotę dla dzieci z Kenii, którymi opiekują się wolontariusze z Missionaries of the Poor, a nasza szkoła stara się współpracować. Serdecznie dziękujemy wszystkim uczniom, Rodzicom oraz Nauczycielom za wspaniały gest pomocy!
Tradycyjna praktyka: Postu, Modlitwy i Jałmużny podczas 40-dniowego Wielkiego Postu przyniesie niewątpliwie wielką radość dla dzieci z Kenii, które już na początku maja będą mogły dmuchać balony, bawić się lalkami, samochodzikami oraz cieszyć się z daru serca jaki udało się zebrać w Polskiej Szkole im. św. Jana Pawła II.
Bóg Zapłać Wszystkim!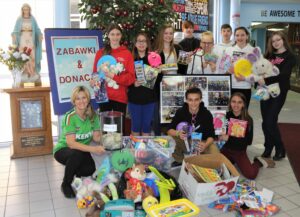 This post is also available in: Polish