Hello Polanie Families,
I hope you all had a wonderful summer and that the kid's school year started off to a great start. We look forward to Starting a new school year as well.
CONGRATULATIONS
We would like to Congratulate Pan Mikey on the completion of his schooling for 4-Letniego Polonijnego Studium Choreograficznego w Rzeszowie this past summer. Pan Mikey has been dedicating his summers since 2016 to complete his education. Another round of congratulations to Pan Mikey, he will be taking over the choreography for Polanie Dance Group. We would like to thank Pan Ryszard for all of his dedication to our group, and we will miss him.
PRACTICE BEGINS
Our first day of dance class will be September 7, 1-3pm. Please be sure all dancers have Black Ballet or Jazz shoes, Girls will also need black skirts. If you need to order a black skirt we will be putting in an order shortly after the school year starts.
OPEN HOUSE
If you haven't signed up for Polish School, Please join us Sunday August 25 at Polish School from 9am-3pm for sign ups. Please encourage other children to sign up for Polanie, we are always looking for more dancers.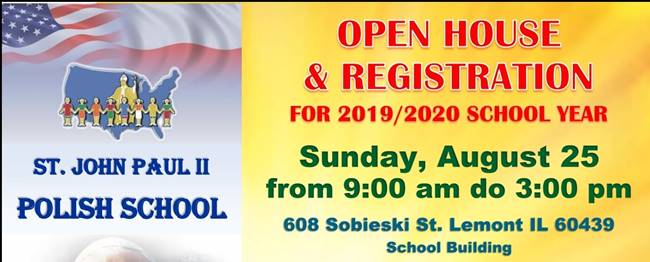 CALENDER
Every week you will receive an email with practice and dance information most likely on Thursdays, at the bottom of each email there will always be a list of all events for Polanie, please add all events to your calendar and if you see a conflict with your schedule please let us know ASAP and not the day of. Letting us know in advance, helps the teachers plan the choreography better for the event rather having holes in the performance.
CALENDER EVENTS!!!
– 08/25/2019 – 9am-3pm – Polish School Open House @ Polish School. Registration for Polish school and Polanie (If you already registered, you don't have to come)
– 09/07/2019 – 1-3pm – Regular Practice begins
– 09/22/2019 – 1:30pm Polish Club Harvest Mass & Picnic, available children will only dress in costumes.
– 10/27/2019 – 1:30 – Mass, Available Dancers will only dress in costumes
– 12/15/2019 – 8am Mass- Polish Club Oplatek, Children dance
– 12/20/2019 – Dancers perform Christmas show for Friday night Polish School
– 12/21/2019 – Dancers perform Christmas show for Saturday morning PL School
– 02/16/2020 – Polish Day performance
– 02/22/2020 – 20 Year Anniversary Zabawa @ Crystal Grand. Polanie Performs
– 04/19/2020 – Easter Blessing Show after 8am mass
– 05/8 & 9/2020 – Possible end of year Performance
– 05/15 & 16/2020 – Possible end of year Performance
– 05/16/2020 – Polanie end of year Fundraiser Party
If you have any questions, please feel free to reach to Pani Monica or Pan Mirek, we look forward to seeing all of you!
Polanie Group,
Mirek Cislo
(708)927-8540
Monica Gruszka 
(630)842-3575
This post is also available in: Polish